Original toy: Made by Lewtan in the 1950s. Die cut printed cardboard called a 'One Shot Toy', sold for advertising purposes; in this case, Esso. The gun is fired with a flick of the wrist, causing a sheet of folded paper inside the gun to pop as it snaps.
Hand made plate using Staffordshire red earthenware clay. Hand painted with coloured slips. Box framed in black lacquer frame ready for hanging.
This plate is no longer available. Orders are accepted on this item, please contact Kitty Shepherd Ceramics.
Stamped to base with potters own seal: KS
Diameter 22 cm
Signed and dated 2017.
Hand decorated with coloured slip
Please allow 28 days for delivery
Out of stock
Back Shop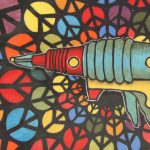 Previous item
|