Hand modeled ray-fish dish on three feet.
Decorated in the 'scraffito' method of scratching away one layer of slip covering another, in this case black slip over white slip. Base clay is red Staffordshire earthenware.
This dish is stable and watertight, suitable for food and dishwasher safe.
Stamped. with potters own seal: KS
Tail to nose 25.5 cm
Hand decorated with coloured slips.
Safe for use with food products.
Dishwasher safe.
In stock
Back Shop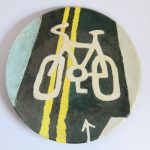 Previous item
|