The Next Exhibition
My next gathering of pots is in June and will take place at my flat in Worthing West Sussex. This will be a bit of a retrospective too with a few old pieces mixed in with the new. You will be able to see and buy the Lipstick Tablets for the first time at this event, 40 of them framed and ready to go! If you have spotted one on my Facebook, Twitter or Instagram pages that you want to have reserved then let me know. They are retailing at £200 each framed and ready for hanging.
My daughter Jess is also showing with me.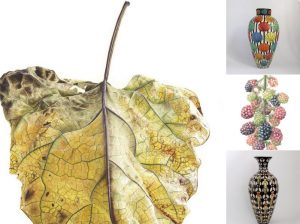 It will be Martini's and Noel Coward all the way, works on show by Kitty Shepherd and Jess Shepherd on the dates below:
24 June 17.00 – 20.30
25 June 13.00 -18.00
1 July 17.00 – 20.30 (Book release from Inkyleaves TBC printers deadlines etc.)
2 July 13.00 -18.00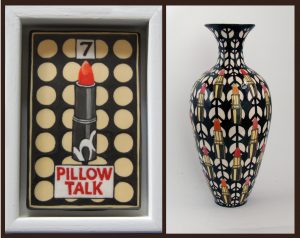 A newsletter will go out in the coming weeks with an invitation to the previews with more information on how to find us. Subscribe here. This event is part of the Worthing Artists Open Houses and there is another flat in this iconic Art Deco block of flats also open for viewing,
Easy Payment Terms
If you'd like own one of my ceramic pots, get in touch. Just message me and tell me what your budget is, which pots you like, and what size you are looking for. Smaller isn't always cheaper. I often set up easy payment arrangements that can make owning a pot possible.
For example a pot for £1,200.00 can be paid off at £100.00 per month, interest free. Pots range in price from £50.00 – £3,000.00. I happily accept payments from £40.00 per month to £250.00 per month (or more) depending on price of pot.
Something like 60% of my work is sold from a sighting on Facebook, A buyer will get in touch having see a pot on line and then depending on where it is heading to (some do have a venue destination) the task of securing that piece begins. I have a 'what's available' list, that can be emailed by request.